Social Bowls Days
Business & Community Social Bowls
Business and Community bowls is a great event for local businesses, professional groups or just a bunch of mate. We run a Summer and Spring Series events, keep up-to-date with the event on our website and Facebook pages!
Business and Community bowls, the social game for the whole family!
Junior Bowls
Coaching sessions for any interested Juniors who wish to take part and learn more about bowls can be arranged for after school or on Saturday mornings.
These sessions:
Are supervised by accredited coaches of the game
Are free!
Are where basic tuition and competitive skills are demonstrated and taught.
Tournaments
Don't Miss Out
We always have fun events going on at the club. From community bowls and barefoot bowls to special events, everything is possible whilst at the Victoria Point Bowls and Recreation Club. We work hard to cater to your every need.
Men's Club Pennant
The season kicks off this Saturday the 18th of July. The Magpies have 5 grades nominated this season, divisions 1, 2, 4, 6 and 8, good luck to all Magpies this season.
We will also be having our "Rink of the Week" prize again this season, so the best winning rink of the week for the Magpies will receive their Free Drink at the club 30 minutes after the last game is finished and you MUST BE PRESENT to claim!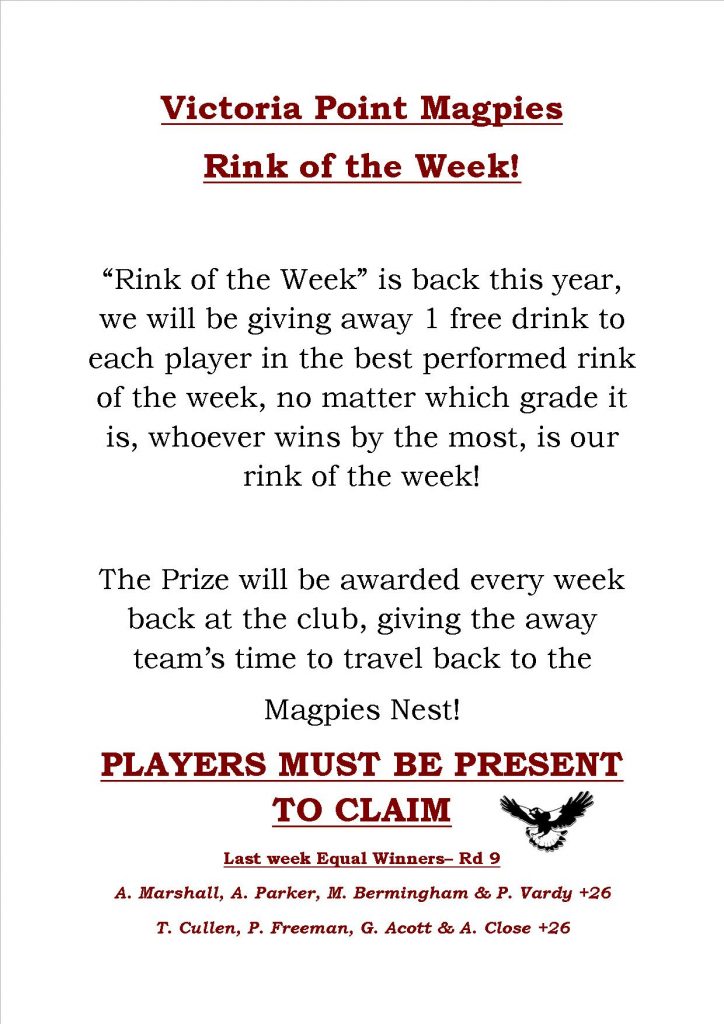 Club Championship draws
Congratulations to Sean Baker on winning the 2020 Men's A Grade singles.
Baker defeated Scott McLachlan in the final 25-23 in one of the best finals ever witnessed by many lucky spectators that made it down to watch.
Congratulations also to Michael Bermingham and Andrew Murray on making it to the semi finals.
The Club A Grade pairs final was played on Sunday 26th July and many members watched a high quality game. Sean Baker and Scott McLachlan jumped out the blocks against Mitchell Cameron and Michael Bermingham and seemed in control of the game.
But Cameron and Bermingham had other ideas, getting a big 5 in the later stages of the game, reducing the lead to just 7 with 5 ends yet to play, but Baker and McLachlan held on to be eventual winners 23-14. Well done to all players and members who came to watch the game.