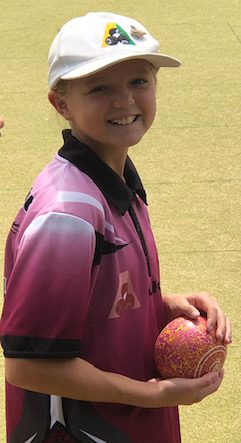 At just 12 years old, Syarra Blain is on track to becoming a Superstar of the game, already well known around the club and Gateway District, Syarra recently burst onto the Queensland Junior scene, winning GOLD in the Under 15 Pairs and Bronze in the Under 15 Singles….both events were her first time competing at State competitions! Her Father Steve is very proud of "Chicken" and both are regularly seen around the club having a roll, both on the green and off it, as Syarra is also very well known for her love of Sausage rolls!
Syarra first started bowling at the club about 12 months ago, already claiming her first club Championship in the Club Mixed Pairs. Syarra loves coming to the club on Ladies day during school holidays and not only bowling, but helping in the kitchen as well!
Starting bowls with her very own set of size 0 Aero she has now recently upgraded from her famous little pink size 0's, too her new blue Henselite Cruz size 2. Speaking to Syarra recently and she loves her new bowls, proudly stating she is also a NSW Blues supporter…much to our despair!
You can often find "Chicken" out practising with dad, constantly working on her game, often travelling to other clubs to participate on other competitions, expanding her skills constantly, all whilst having a smile on her face. You only have to speak to anyone that has had interaction with her, all saying the same thing, "such a lovely young lady, so well mannered, she's just great", she is a certainly a credit to her family and herself and we are proud to call her a Magpie! Go the Pies!